Voices on the Environment
Voices on the Environment is a series of events at the intersection of science, the humanities and the arts that link environmental journalism, literary writing, activist performance, and critical approaches to climate change, the environment, and language.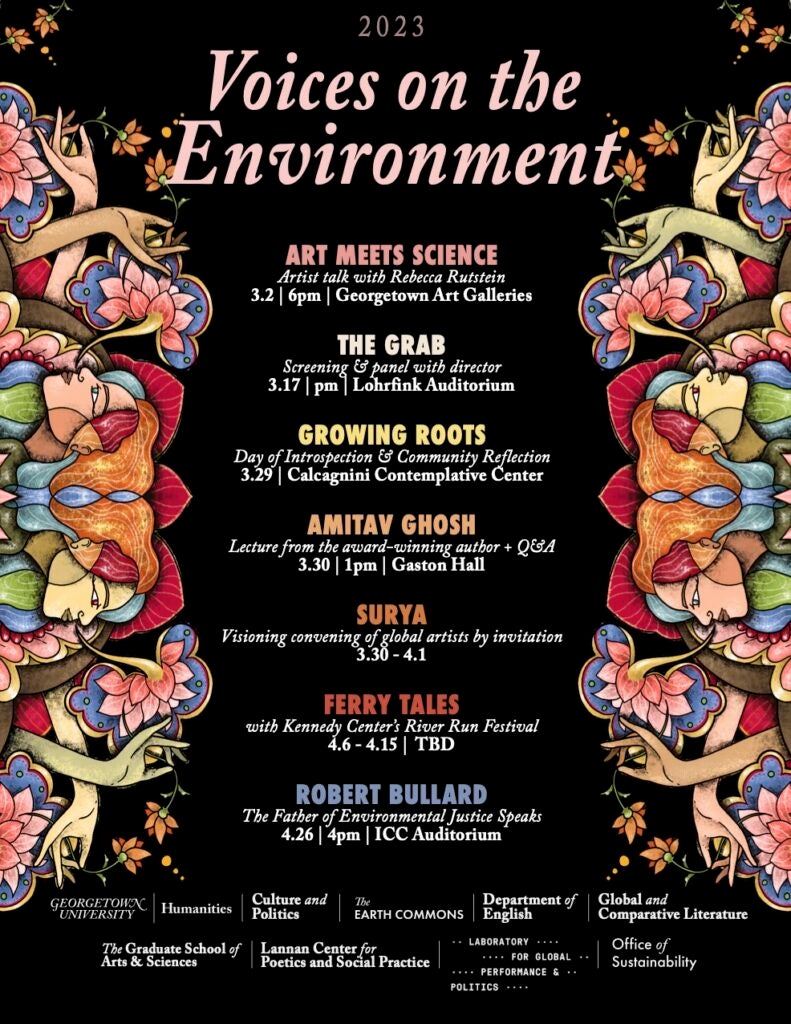 2023 Schedule of Events
3.2 "Art Meets Science" Artist Talk with Rebecca Rutstein
6 PM Rutstein's talk at De la Cruz Gallery will be followed by a reception with food and drink.
Rebecca Rutstein is a painter, sculptor, interactive installation and public artist! Her work is inspired by the natural world and fosters connection in the face of our climate crisis. Working with oceanographers, ecologists, microbiologists, molecular scientists and geologists gives her a unique perspective and wonder for the interconnectedness of systems in the natural world which she pours into her works.
3.17 The Grab: Film Screening and Panel Discussion
5:30 PM Screening will be held at Lohrfink Auditorium followed by panel.
In partnership with the DC Environmental Film Festival, the Earth Commons and Georgetown Film and Media Studies will host a festival screening of THE GRAB, directed by Blackfish filmmaker Gabriela Cowperthwaite. The film (104 minutes) uncovers the money, influence and alarming rationale behind covert efforts to control the most vital resource on the planet. The screening will be followed by a panel featuring the director Gabriela Cowperthwaite, investigative journalist and the main subject in the film, Nate Halverson, as well as Brigadier Siachitema, a human rights lawyer and featured subject.
3.20 Common Home Photography Contest
Submissions Due 5PM Second year of ECo's Common Home's Photography Contest
ECo's Common Home magazine's 2023 theme is, "Land, Water, People." Top submissions link these subjects with environment and sustainability themes through original, compelling photography that carries a striking message and sparks discussion about the environment and our relationship to it. The showcase will accept submissions to the 3 categories—land, water, and people—and will embrace wide interpretations of these themes. Multiple submissions welcome. The first and second place submissions in each category will receive coverage in Common Home magazine as well as $300 and $150 cash prizes respectively.
3.29 Growing Roots: A Day of Introspection and Community Reflection
Join the Office of Sustainability and Mission & Ministry as we reflect collectively on our role in sustainability and our impact on social equity at the Calcagnini Contemplative Center. Together, we can build a community and culture at Georgetown for a sustainable future. The agenda includes a mission reflection on Stewardship of the Earth and Creation as well as flexible time to engage in small groups discussions, self-reflection exercises, and other activities to help us engage our sense of community and develop our sense of belonging. Registration closes March 15.
3.30 Amitav Gosh: Voices on the Environment Public Lecture
1PM at Gaston Hall
Amitav Ghosh is the internationally-recognized author of The Calcutta Chromosome, The Glass Palace, The Nutmeg's Curse, The Great Derangement: Climate Change and the Unthinkable and numerous, far-reaching fiction and non-fiction works that span personal identity to colonialism and climate change. This public lecture will be followed by a panel discussion and Q&A. Program co-sponsors proudly include the Georgetown Humanities Initiative, the Earth Commons, the Laboratory for Global Performance & Politics, the Walsh School of Foreign Service, and the Lannan Center for Poetics and Social Practice. 
March 30 – April 1. Surya: A Convening of Earthly Storytellers
An invitation-only three day convening at the Lab's studios at the historic Fillmore School
How do we reconcile what we are beginning to know with what we used to know and what we are yet to know? What words can encapsulate and archive the kaleidoscope of the world as it experiences growing pains? The Lab for Global Performance and Politics and the Earth Commons are convening a select group of artists, thought leaders, and changemakers. This three-day, private event at the intersection of art and environment will enable us to share in one another's work, grapple with critical questions, and build a community for mutual inspiration to imaginatively restore power to the Earth. The weekend will include highly participatory workshops, meals, movement and communal interactions in nature, celebratory ritual, and honest discussions around place, land, and futures.
April 1, 6, 7, 8, 13, 14, 15 Ferry Tales with the Kennedy Center
In a series of site-specific performances by Ahsanee Kottage and ECo artist in residence Caitlin Nasema Cassidy celebrating the Potomac watershed, At locations along the river, storytellers will share short tales with passengers and passers-by. Woven from community interviews, science, local history and legend, these performances honor the depths of DC's waters and the many forms of life that call them home. Stories include tales about the eastern lamp mussel and the large mouth bass, the recovering shad population, and origin stories of the Potomac itself. Come listen to the river!
In partnership with the Kennedy Center's departments of International Programming and Social Impact, The Laboratory for Global Performance & Politics, and The Earth Commons—Georgetown University's Institute for Environment & Sustainability with support from Georgetown Heritage and the Chesapeake and Ohio Canal, a National Historical Park.

This performance is supported in part by The John F. Kennedy Center for the Performing Arts
as part of Social Impact's Office Hours Residency program at the REACH.
More information on the Kennedy Center website. Locations to be announced.
April 26—Robert Bullard Public Lecture
Robert D. Bullard is often described as the father of environmental justice. The Earth Commons and the Graduate School of Arts & Sciences proudly welcome Dr. Bullard to Georgetown for a public lecture introduced by Georgetown University President John J. Degioia followed by a panel discussion with Sheila R. Foster, The Scott K. Ginsburg Professor of Urban Law and Policy and Professor of Public Policy, and a Q&A.
2022 Schedule of Events
3.18 We Hear You: A Climate Archive
7 PM Series launch, the Kennedy Center's Coal + Ice exhibit
Co-conceived by Earth Commons artist in residence Caitlin Nasema Cassidy and inspired by Greta Thunberg's urgent question "Can you hear me?," this project seeks to amplify the ways that today's young people are experiencing changes in the fundamental forces of the earth. Read about the year-long series.
4.20 Indigenous Philosophy + Sustainability
4 PM Sustainability planning centering Indigenous philosophy, Arrupe Multipurpose Room
Join Georgetown faculty member Shelbi Nawhilet Meissner and the Office of Sustainability as they explore themes of Indigenous philosophy in developing the university's sustainability plan, charting the course for future relationships between Georgetown, the environment, and the community. Register here. 
4.21 Bird Brother: Dialogue with a Bird Expert & Environmentalist
12 PM Rodney Stotts & his birds of prey with Adanna J. Johnson, Healy Circle
Dr. Adanna J. Johnson, Associate Vice President for Student Equity and Inclusion, interviews Rodney Stotts, a falconer and licensed raptor specialist, mentor and youth community leader from SouthEast Washington, D.C. Alongside a raptor demonstration, book giveaway and free community meal, Stotts will explore how falconry saves the lives of raptors and helps to keep the population healthy while crossing color, socioeconomic and ethnic barriers. Through his work, he makes the powerful connection between endangered species of all kinds and local youth who must navigate survival in a stressed community. Register here for your signed book copy (while supplies last) + free vegetarian meal. 
4.22 "What Does It Mean to Acknowledge? The Philosophy and Practice of Land Acknowledgement"
12:30-1:30 PM A Conversation with Hayden King,  Zoom
Georgetown's Shelbi Nawhilet Meissner asks student-generated interview questions to Hayden King, Executive Director of the Yellowhead Institute and Advisor to the Dean of Arts on Indigenous Education at X University. The conversation will explore what land acknowledgements mean in today's political climate and how or if they can be improved. Register here.  
The word acknowledge can mean "to admit the truth of something" or to verify something with "legal force"; it can also mean to confirm you've received something, like a letter, "esp. by making a gesture or greeting" (OED). In this sense the concept can include both legally-binding statements of truth and (empty?) "gestures."
In this workshop, two experts in Indigenous thought will address the philosophy and practice of land acknowledgement today. The discussion will investigate the diverse valences of "acknowledgement" and ask what relationship might exist between (a) the epistemological aspects of acknowledgement –learning, cultivating awareness, and becoming conscious—and (b) the more material practices of repair, restoration, and responsibility toward the physical landscape and its rightful inhabitants that might follow from such knowledge.
In institutional and physical landscapes shaped by the historical legacies of settler colonialism, what ways forward might there be, beyond the gesture?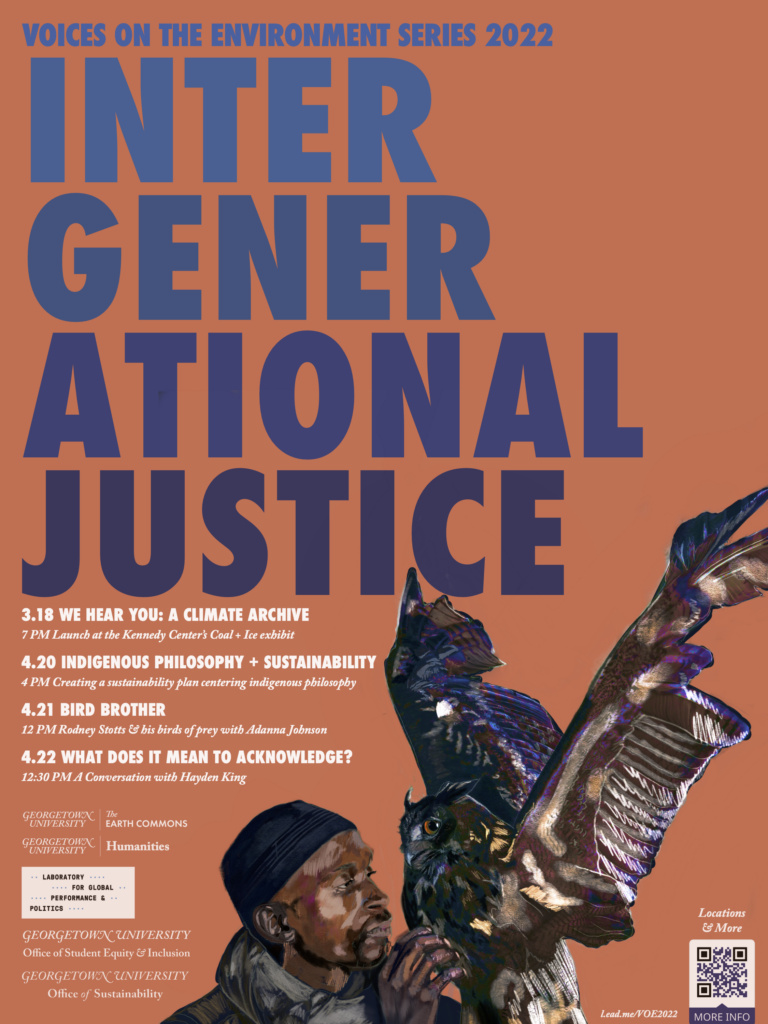 ---
Click here to view 2021's program.
Sign up for updates
Subscribe to our ECo newsletter and receive updates on Voices on the Environment programming and more ECo events.