ECo + the CALL
The Earth Commons and the Capitol Applied Learning Labs (CALL) have teamed up to develop a slate of undergraduate courses to kickstart your career in environment & sustainability—or to simply explore your passion for positive environmental impact. With downtown D.C. as your classroom, you'll learn about the local and global ecosystem, gain new perspectives on environmental changemaking, and network with D.C.-connected environmental organizations.
Environment & Sustainability Courses—Spring 2024
Environmental Law with Matthew Oakes/David Gunter
Time: TBD
Course Description: The goal of this course is to provide a broad perspective on the field of environmental law. What is environmental law? Where does it come from? How does it work? What are some of the problems with the system of laws currently in place?
Creating an Equitable City w/ James Benton
Time: TBD
Course Description: This course is a 4-credit seminar focusing on historical, experiential, and imaginative engagement with the aspirational ideals associated with DC and the ways in which inequality is constructed, how practitioners respond to inequality, and how we might imagine alternative futures that hold space for a more equitable future
Ready to Apply?
Whether you're interested in taking a one course at the CALL, or a full schedule of our unique courses, talk to your Academic Advising Dean on whether the CALL makes sense with your current course load. Start the Interest Form to declare your interest in the program for Spring 2024 and to get more information. 
Past Courses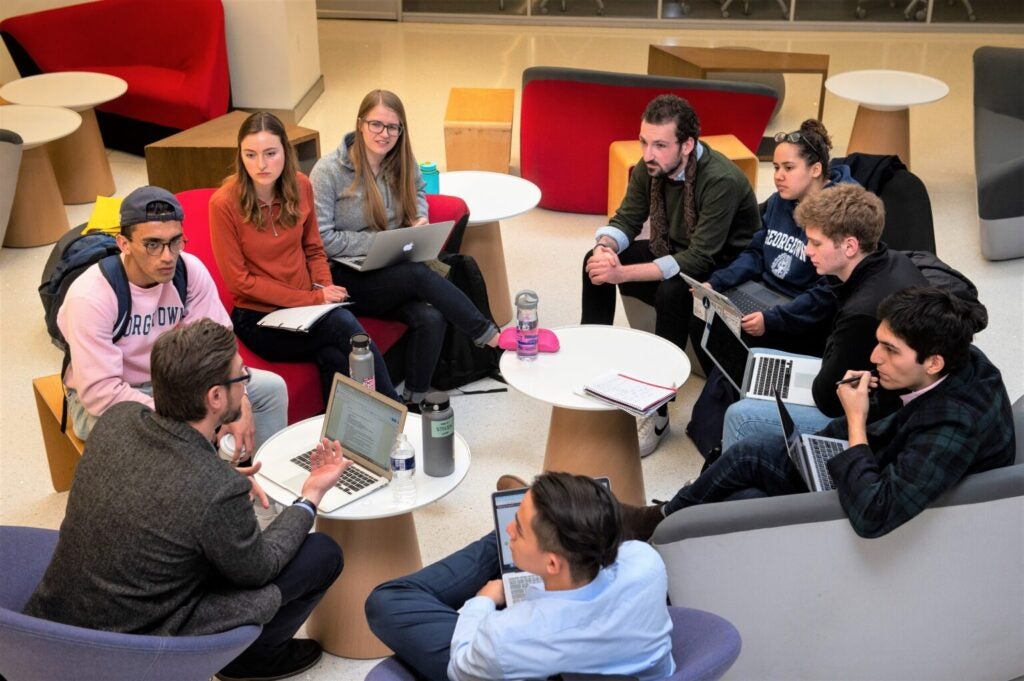 Learn more about the CALL
The CALL is an innovative undergraduate program situated at Georgetown University's Capitol Campus. Georgetown University students will have the extraordinary opportunity to: immerse themselves in downtown living for a full semester, soaking in the vibrancy of Washington, D.C.; engage in meticulously curated courses that embody the ethos of experiential learning, led by esteemed Georgetown Faculty and seasoned practitioners; cultivate fresh connections with Georgetown Alumni and forge invaluable professional relationships through hands-on experiences such as internships and seminars; and seamlessly connect their career aspirations with their academic endeavors.
Explore the CALL