Voices on the Environment
Voices on the Environment is a series of events at the intersection of science, the humanities and the arts that link environmental journalism, literary writing, activist performance, and critical approaches to climate change, the environment, and language.
2022 Series: Intergenerational Justice
This year's theme, "intergenerational justice," focuses on the duties that present generations have towards future ones. Climate change raises particularly pressing issues, such as which risks those living today are allowed to impose on future generations and how available natural resources can be used without threatening the sustainable functioning of the planet's ecosystems. We are confronted with the urgent ethical issue of how to balance the rights of future generations with those of today.
Collaborators include the Earth Commons, the Georgetown Humanities Initiative, the Lab for Global Performance & Politics, the Office of Student Equity & Inclusion, and the Office of Sustainability.
Schedule of Events
3.18 We Hear You: A Climate Archive
7 PM Series launch, the Kennedy Center's Coal + Ice exhibit
Co-conceived by Earth Commons artist in residence Caitlin Nasema Cassidy and inspired by Greta Thunberg's urgent question "Can you hear me?," this project seeks to amplify the ways that today's young people are experiencing changes in the fundamental forces of the earth. Read about the year-long series.
4.20 Indigenous Philosophy + Sustainability
4 PM Sustainability planning centering Indigenous philosophy, Arrupe Multipurpose Room
Join Georgetown faculty member Shelbi Nawhilet Meissner and the Office of Sustainability as they explore themes of Indigenous philosophy in developing the university's sustainability plan, charting the course for future relationships between Georgetown, the environment, and the community. Register here. 
4.21 Bird Brother: Dialogue with a Bird Expert & Environmentalist
12 PM Rodney Stotts & his birds of prey with Adanna J. Johnson, Healy Circle
Dr. Adanna J. Johnson, Associate Vice President for Student Equity and Inclusion, interviews Rodney Stotts, a falconer and licensed raptor specialist, mentor and youth community leader from SouthEast Washington, D.C. Alongside a raptor demonstration, book giveaway and free community meal, Stotts will explore how falconry saves the lives of raptors and helps to keep the population healthy while crossing color, socioeconomic and ethnic barriers. Through his work, he makes the powerful connection between endangered species of all kinds and local youth who must navigate survival in a stressed community. Register here for your signed book copy (while supplies last) + free vegetarian meal. 
4.22 "What Does It Mean to Acknowledge? The Philosophy and Practice of Land Acknowledgement"
12:30-1:30 PM A Conversation with Hayden King,  Zoom
Georgetown's Shelbi Nawhilet Meissner asks student-generated interview questions to Hayden King, Executive Director of the Yellowhead Institute and Advisor to the Dean of Arts on Indigenous Education at X University. The conversation will explore what land acknowledgements mean in today's political climate and how or if they can be improved. Register here.  
The word acknowledge can mean "to admit the truth of something" or to verify something with "legal force"; it can also mean to confirm you've received something, like a letter, "esp. by making a gesture or greeting" (OED). In this sense the concept can include both legally-binding statements of truth and (empty?) "gestures."
In this workshop, two experts in Indigenous thought will address the philosophy and practice of land acknowledgement today. The discussion will investigate the diverse valences of "acknowledgement" and ask what relationship might exist between (a) the epistemological aspects of acknowledgement –learning, cultivating awareness, and becoming conscious—and (b) the more material practices of repair, restoration, and responsibility toward the physical landscape and its rightful inhabitants that might follow from such knowledge.
In institutional and physical landscapes shaped by the historical legacies of settler colonialism, what ways forward might there be, beyond the gesture?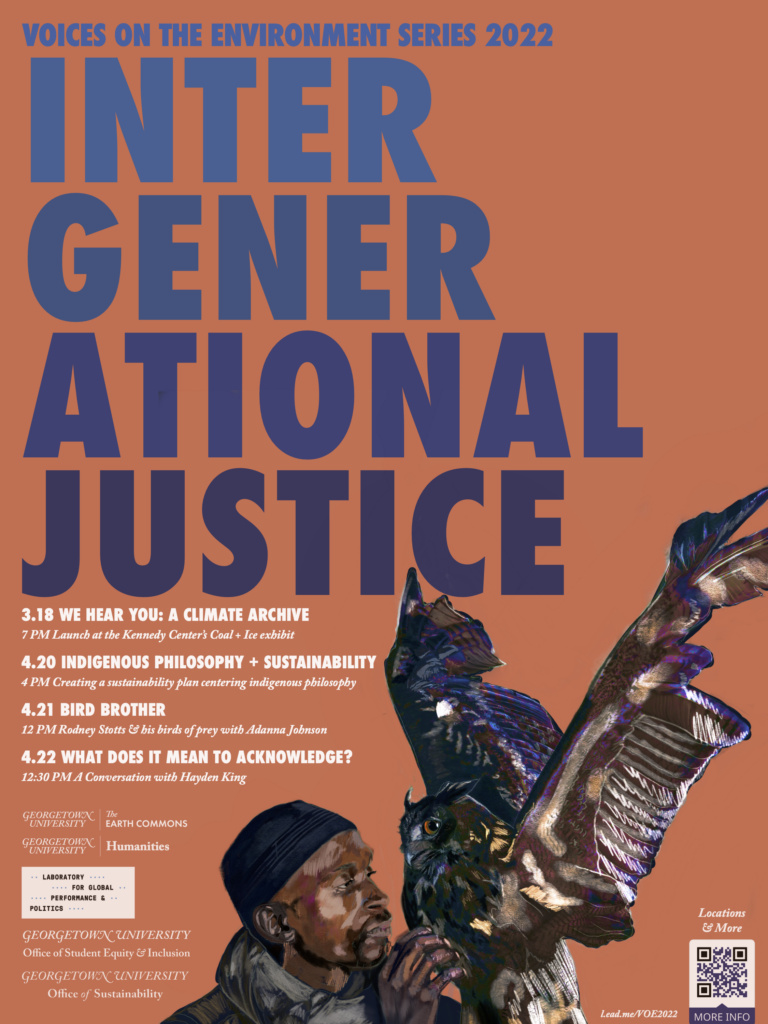 ---
Click here to view last year's program.
Sign up for updates
Subscribe to our ECo newsletter and receive updates on Voices on the Environment programming and more ECo events.